ColourDesigner
How does my photographed object look in different colours?
This module enables you to colorize any picture system colours of all systems. The application is quite simple: Select picture area, click on the wanted colour – finished!
You will find example pictures of the areas architecture, product design, objects of all kinds, etc. in the program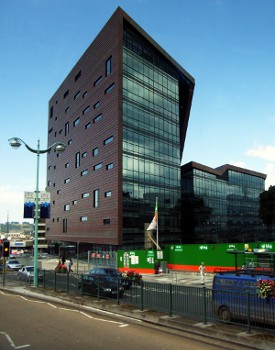 The Original Image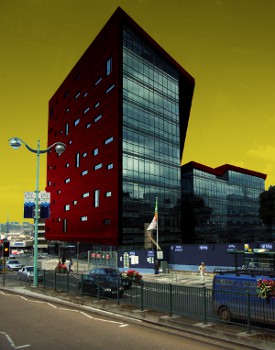 Coloured with the ColourDesigner
Brief Instruction
Select an available picture using the thumbnail view.
Select the picture area to be colourised either directly in the picture or in the mask list.
Select the colour system and the colour. If the colour appears to be too light or dark it can be adjusted using the lightness controls.
Preparation of Personal Pictures for the Program
You can prepare your own pictures for colorizing. For that you have to mask the areas that you want to colorize later on. The masking can be done in any image editing software like Photoshop, PaintShop Pro, GIMP, Corel Photo-Paint, PicturePublisher...
Please refer the detailed instructions.
We also offer to do the preparation for you for a low-price .
Why does the Window not contain any Masking Tools?
The integration of professional masking tools would have exceeded reasonable expenses. However there are numerous programs, even those in the freeware arena, that can take over this task. It would have been easy to realise an automatic masking based on colour similarities, but the program would have never functioned satisfactorily. Imagine the mundane case of a house facade with the shadow of a tree. How should the program "know" if the shadow is a part of the facade and should be uniformly coloured in, or if it is a separate darker surface (plinth, windowsill, or similar)?
Photo Credits
| Dateiname | Quelle | Autor |
| --- | --- | --- |
| Alleyway | Wikimedia Commons | Farbkontrast |
| Awesome Smiley | Wikimedia Commons | East718 |
| Bike Helmet | Wikimedia Commons | Fir0002 |
| Brige | Wikimedia Commons | Les Meloures |
| Butterfly | imageafter.com | |
| Castle | dtp studio | |
| Chapel | fotobase24.de | simbyte |
| Christmas Ball | Wikimedia Commons | Kris De Curtis |
| Circus Bear | fotobase24.de | big foo |
| Colors | bigfoto.com | |
| Congreso Nacional Brasilia | Wikimedia Commons | Mario Roberto Durán Ortiz |
| Copenhagen Opera | Wikimedia Commons | Thue |
| Corvair Monza | Wikimedia Commons | |
| Cups | dtp studio | |
| Dom Berlin | bigfoto.com | |
| Door | pixelio.de | Ingo Döring |
| Eurocopter | EADS | |
| GM 43 | Wikimedia Commons | Peripitus |
| Guggenheim Sculpture | Wikimedia Commons | Zarateman |
| GDR Hotel | Wikimedia Commons | Daniel Helbig |
| Goerlitz Window | Wikimedia Commons | Frank Vincentz |
| Grand Piano | Wikimedia Commons | Gryffindor |
| Guggenheim Sculpture | | |
| Half Timbered House | pixelio.de | Didi 01 |
| Heads | bigfoto.com | |
| House 2 | dtp studio | |
| House Japan | bigfoto.com | |
| Kubus Sofa | Wikimedia Commons | Wikidapit |
| Learjet | Wikimedia Commons | Mulag |
| Lighthouse | pixelquelle.de | Hans Peter Dehn |
| Limousine | Wikimedia Commons | Garitzko |
| Lotus | Wikimedia Commons | Bryn Pinzgauer |
| Manager | pixelquelle.de | M. Fröhlich |
| Media Cube | Wikimedia Commons | DubhEire |
| Mountain Bike | Wikimedia Commons | Roberta F. |
| Navona Sculpture | bigfoto.com | |
| Neuschwanstein | pixelquelle.de | Alexander Hauk |
| Paper Color | bigfoto.com | |
| Paprika Varieties | imageafter.com | |
| Reichstag | | Sonja Zeidler |
| Pokemon Car | Wikimedia Commons | Gnsin (retouched by Morio) |
| Polar Bear | Wikimedia Commons | Alan D. Wilson |
| Puppe | dtp studio | |
| Quadriga Brandenburger Tor | imageafter.com | |
| Road Surface | fotobase24.de | Simbyte |
| Roland Levinsky Building | Wikimedia Commons | Graham Richardson |
| Slate House | pixelio.de | Thomas Max Müller |
| Sofa | imageafter.com | |
| Stained Glass | Wikimedia Commons | TUBS |
| Trabi | bigfoto.com | |
| Train | Wikimedia Commons | Möchtegern |
| Venice masque | bigfoto.com | |
<!-– end content -->