Colour Mood
Which colours fit together?
"None" or "all" are possible answers to this question. At least we are talking about topics which are combined with subjective experience, liking and fashion and the colloquial language knows: "There´s accounting for taste".
With the window "visual colour mood" an unlimited creativity is enabled. Any combinations of colours can be simulated in different visualizations on the monitor, printed and saved. The personal assessment ceded to the user, the window does not make suggestions or rules.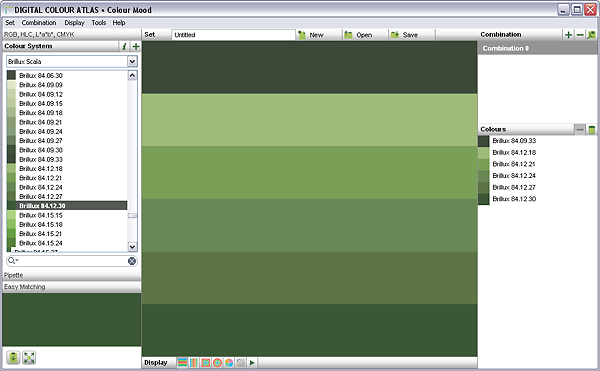 A free compillation from the Brillux Collection.
Brief Instruction
Open an empty project, in which you can work or choose a saved colour set.
Any given colour (from different systems) can be added to the current colour combination via a double click or by using the "+" button (left side up top). By using "-" (right side middle) you delete a colour. By using the trashcan you delete all colours out of the current combination.
Entire combinations can be added or removed by using the "+"– and "-"-button on the right side up top.
By changing the view (stripes, circles, moiré, ...) you will get a different impression of the current combination. Animate every view with the play button.
To change the order of the colours move them right in the colour list.
The current combination can be exported as a pdf-file.
Numerous colour combinations can be saved in one colour set.
Saved colour sets can be pulled up any time and processed further.
<!-– end content -->