All at a Glance
300 Colour Systems – One Software
The heart of the software is a databank with spectral measurement data for ca. 300 colour systems. During the development of the functions the typical problems of the industry were kept in the foreground, e.g.:
Which colour from my system is equivalent to another given colour?
Which RGB?CMYK/Hex value to I utilise for the best possible reproduction (printer, monitor)?
Which colours provide the best match?
How do I gain an overview of my colour systems – even without the original colour fans?
How can I apply my colour system directly in my Graphic or CAD program?
Software Components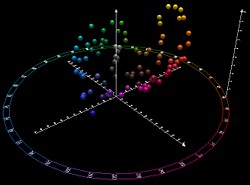 Cruise through the colour systems – contemplate your colours in the CIEL*a*b* colour space.
By clicking on the respective functions you receive an indepth description of the function.
Here you will find an overview of the colour systems contained in the software.
Printed CMYK Colour Atlas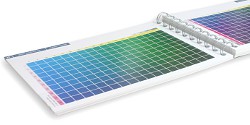 A CMYK-book printed according to ISO-Norm is included with each initial license.
The CMYK-colour space was compiled on three different types of paper (coated, uncoated and newsprint paper) in the cmyk handinhandbuch book.
The 3 x 6000 colour fields were printed strictly according to the FOGRA-Standard/ISO 12647-2 and exhibit very good print quality and stability.
These colour books were used for the initial measurement of the CMYK database contained in the software. So as the saying goes we are not comparing "apples to oranges".
System Requirements
The requirements for the operation of the software are fulfilled by every normal Windows (XP or later) or Mac (OS X or later) workstation. New systems (MacOS 10.7 Lion, Windows7, 64 Bit) are not a problem.
Variants and prices
You have the choice between USB-Stick, DVD-ROM and Download. The USB version is starting immediately in full version mode on any system.
| | USB-Stick | DVD-ROM | Download |
| --- | --- | --- | --- |
| First user licence | 249 EUR | 149 EUR | 129 EUR |
| Additional user licence | 119 EUR | 99 EUR | 79 EUR |
| Update | 149 EUR | 109 EUR | 99 EUR |
Prices plus VAT and shipping costs (for DVD-ROM or USB stick)

The first user license of USB und DVD-ROM variant includes the printed CMYK colour atlas.

<!- – end content -->